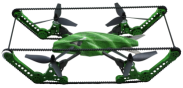 Camera allows you to watch videos on your devices
Flies indoors or out-easy to control in most conditions up to light winds
Control drone with your iOS® or Android phone or tablet using Wi-Fi®
Tank tracks offer grip and stability on rough terrain and many surfaces
Rechargeable battery-charge via the included USB cable
Dimensions: 16.9" x 8.1" x 4.3"; weighs 11.3 oz
Flight Speeds: Two speeds to challenge any pilot`s drone-flying ability
Air Movement: Drone hovers or moves forward, backward, left & right
Ground Movement: Drone drives forward, backward, left & right
Flying Range: Up to 100 feet (30 meters)
Interface: Fly via smart device using Wi-Fi and iOS or Android
Flight Time: Up to eight minutes between charges
In the Box: four spare rotor blades; USB charging cable
Dimensions: 16.9" x 8.1" x 4.3"
Weight: 11.3 oz
The Flight Force™
Flying Tank Drone
streams action to your phone or smart device while it crawls across the earth or streaks across the sky!
Control from up to 100 feet away via iOS or Android using Wi-Fi signal. Two flight speeds make flying the drone fun for any ability level. Drone runs for up to eight minutes on a charge. Package includes drone, four spare rotor blades; and a USB charging cable.